---
South Korea Idolizes 'Geisha' Girls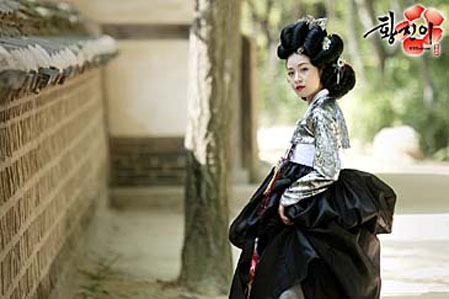 The new and highly popular geisha drama "Hwang Jin-i", now playing in South Korea.
Geisha girls are becoming a talk of many people in South Korea this fall. A TV network started broadcasting the geisha drama of "Hwang Jin-i," the most famous geisha of Korea's Jeoseon Dynasty. These girls are known as the "flowers that can understand words"--graceful entertainers from Korea's past, who are adept at poetry, art and music, and are Korea's version of Japan's geishas.
A TV show based on the life of a famous 16th-century "gisaeng," as the women are known in Korea, has become a runaway hit in South Korea, driving the country's entertainment industry to expand this trend with a musical, comic book, movie and more TV shows.
Ironically, the gisaeng are enjoying popularity as a model for today's women seeking a greater say in the male-dominated Korean society--with the entertainers having enjoyed special privileges to participate in the men's sphere despite their low standing in the rigid class hierarchy of imperial times.
"Gisaeng becomes cultural icon of 2006," the leading daily headlined a recent story on the fad.
Theories of gisaeng origins vary, with some believing they date back to the Shilla dynasty, which emerged in the fifth century. Their nickname is "haeohwa": a word that combines three Chinese characters for "understand," "word" and "flower". It is a symbol of indigenous beauty.
Lee Don-soo is an art historian who has organized an exhibition of gisaeng photos from his extensive collection. He is now also preparing a book on the subject. "Original gisaeng weren't a sexual object, but rather 'entertainers who had intelligence', and who predated the geishas of Japan", he says.
Looking through the photos in his digital archive, the gisaeng of the late 19th and early 20th centuries display surprising touches of modernity. They are confident-looking women who cross their legs in male fashion. They are shown with glasses and books, and even smoking. All rather interesting when one considers that the Koran society has been deeply conservative. But the girls also take part at calligraphy contests, or play the geomungo, a harp-like Korean traditional instrument.
Many of these women also wore styles that appear far ahead of their time, with impressionistic print designs on their dresses. Their hair was parted in a businesslike style. These signs of their individuality set them apart from the Japanese geishas, all painting their faces pale white and who wear tight-fitting kimonos.
Models of feminine strength
Stories about gisaeng participating in resistance against Korea's invaders in the past centuries are common. One such tale is the story of Non Gae, who lived in the 16th century. She was summoned to entertain the occupying Japanese forces. While embracing a Japanese general, she leapt into a river, killing them both.
That strength provides a role model for today's women, who seek a greater say in South Korean society. More women work, wait longer to get married and have fewer children, as they concentrate on careers and rise in business and politics. The country's first-ever female prime minister was sworn in this year.
"Gisaeng are the only group of females that could participate actively in society with men," said Lee.
Much of the recent focus has centered on the most famous gisaeng, Hwang Jin-i, whose intelligence rivaled her beauty and whose poems and artwork left an enduring legend. "More than anything else, she didn't give in to the pressure of her class or of the era in which she was born," said Ha Ji-won, the actress playing Hwang.
"The way she dominates upper-class men is so thrilling," said Lee Myoung-ju, a hair stylist in her 30s. "Her choice of words and expressions just petrifies and stupefies all men, except her real lovers." The gisaeng craze will continue with a musical focusing on Hwang, and next year a movie about Hwang comes out, based on a North Korean novel about her.
© PROMETHEUS 123/2007
PROMETHEUS, Internet Bulletin - News, Politics, Art and Science. Nr. 123, September 2007