---
There is something in this place near the Himalayas ...
A spiritual experience in the Himalayas--Swami Rama Meditation Academy a rare place of peace and tranquility--young students come from around the world
Meghna's comments as told to Dr. Dinesh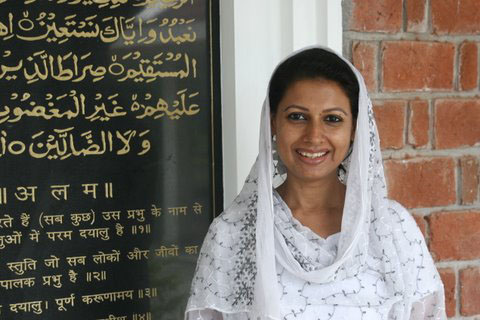 Meghna Nahib's first visit to the Swami Rama Meditation Academy in Rishikesh, India.
Rishikesh/New York (meaus) "I had an amazing experience of silence, quietness and love here. I feel strong vibrating energy here all the time. There is something in this place which I feel but can't explain…" expressed Meghna Nahid, a Bangladesh born & Malaysian resident in a deep sentimental voice, with half closed eyes, about her month-long experiences at Swami Rama Sadhaka Grama on her maiden trip to Rishikesh.
Though born in a Muslim family in Dhaka, she read Mahabharata and Ramayana besides Koran at a tender age of 13, after having been inspired by a close friend. Her mother, an equally spiritually inclined soul, supported her spiritual pursuits. She heard about Swami Rama, Swami Veda Bharati and SRSG from her yoga and meditation teacher Shilpa Ghatalia, who besides being close friend also matters a lot in her life. Shilpa had been inspiring her to visit SRSG and Rishikesh for the last 3 years.
How she finally made up her mind to come and stay here? "From January 2007 'some invisible source' started taking over me. And then, one fine morning in my meditation--I don't know how--I got sort of a message which made me cancel my family summer vacations to Europe and land here in Rishikesh."
Didn't she feel nervous to travel to a new place, thousands of miles away from home, on her own ? "Not at all! Some higher being within me assured me that it's all going to be wonderful. And when I called Smita from Delhi to announce my arrival, her sweet & reassuring voice dispelled the little anxieties I had."
Speaking about her experiences during her month-long stay she said. "As soon as I came here and met these wonderful people and experienced their caring love, I didn't take much time to feel at home. After the second day of my silence I felt that there is something here which can help me to understand my own being. Though I have not yet met Swami Veda Bharati, nevertheless I feel his love and care everywhere even if he is not here. While listening to his taped discourses I feel his voice is something that can make any one so calm and quiet. His voice descended on me like a giant wave of peace."
Meghna's beautiful inner peace descended on all the audience through her most melodious bhajans (spiritual songs) on the occasion of Guru Purnima celebration on July 29, 2007 at SRSG when she joined Smt. Geeta Adhikari & other Gurukulam students in an enchanting performance.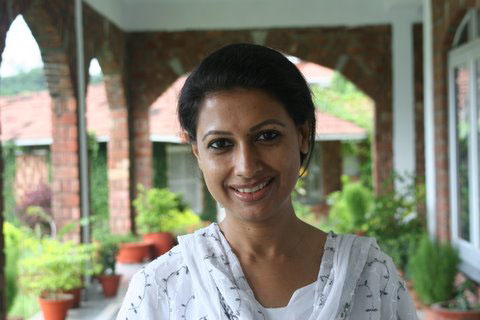 Saying farewell to this very special spiritual place, and hoping to come back again.
Will she again visit us? "Yes, for sure. I want to come back again and again. This place is my new home now. All these people here are so loving and helpful. Every person helps you to relax your body and mind, which is so unique. Students are so brilliant. Food is so good. Eating meals is like a family ritual so special and healing. The cottages are so special and give you an earthy feeling. After a day out when I return to this room, I feel it is home…my home and I am going to miss it."
Namaste, and farewell, dear Meghna. We shall wait for you to come again and again. Swami Rama Sadhaka Grama always miss gentle and wonderful people like you……
© PROMETHEUS 122/2007
PROMETHEUS, Internet Bulletin - News, Politics, Art and Science. Nr. 122, August 2007