---
Armour Dial Research Laboratory
Remembering the San Francisco architect James Leefe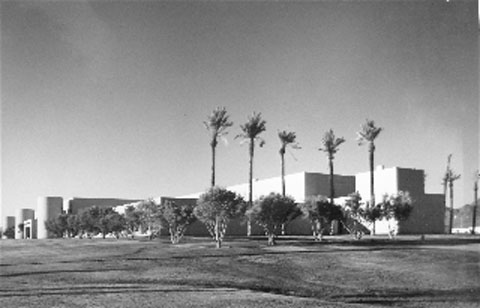 From the James Leefe archives: photo of the Armour Dial Research Laboratory.
The Armour Dial Research Laboratory was a single building with a number of distinct purposes and necessities. Three distinct sections were needed by the research division of this company's product research and testing lines to be housed under the same roof. The first was the company's research in food products laboratories, the second was the cleaning products research laboratories, while the third was the culmination of the others, as a large area for the testing and further development of products; all of these, in addition, needed to be separate from the others to prevent contamination.
This building makes use of a long hallway, running the expanse of the building to connect each of these three sections, as separate and disconnected as possible, and acts as a storage area. The design of the building is a vast main building with varying levels throughout and a number of exterior connected cylindrical structures which house stairs and other possibly obstructive features; this is another example of a ubiquitous feature of James Leefe's signature work.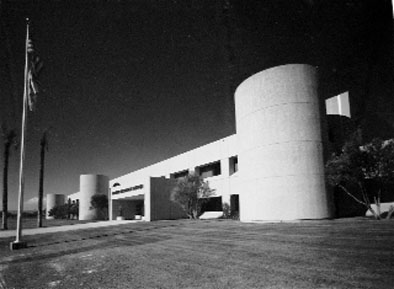 The exterior design is another elegant design, color and texture. Using an almost white, stucco material, he fit the color and texture into the landscape of southern, Arizona style environment and traditional material. Without making the building look like a Spanish relic, however, he used geometric designs creating the impression of towers and stable, but not solid fractions of the surface, much like the lines on concrete sidewalks. The style is modern, but not over the top, and typical to his style and adaptation of the building to its environment and people.
Photos and text Copyright 2005 Museum of European Art
No part of the text or any of the photographs may be reproduced without a written permission from the copyright holder, the Museum of European Art, 10545 Main Street, Clarence, New York 14031 (USA). Contact John Zavrel, Director, at zavrel@meaus.com
© PROMETHEUS 122/2007
PROMETHEUS, Internet Bulletin - News, Politics, Art and Science. Nr. 122, August 2007