---
Bush endangers Europe
Russian president Putin issues warning over U.S. missile defense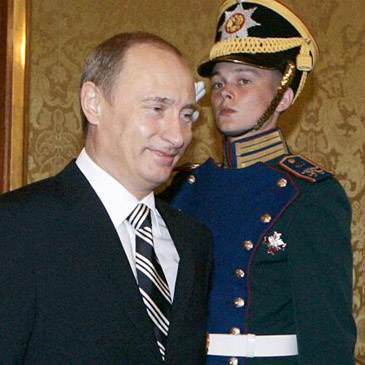 Russian President Putin threatens Europe with the targeting of Russian nuclear weapons against their countries, as a result of the provocations by the Polish and Czech governments. The European Union should consider: should Poland and Czech Republic be expelled from the European Union for these provocations, which endanger all the European countries?
Moscow/Prague. The Russian President Vladimir Putin warned that Moscow could take "retaliatory steps" if Washington proceeds with plans to build a missile defense system for Europe, including aiming nuclear weapons at targets on the continent.
Speaking to foreign reporters days before he travels to Germany for the annual summit with President Bush and the other Group of Eight leaders, Putin assailed the White House plan to place a radar system in the Czech Republic and interceptor missiles in neighboring Poland. Washington says the system is needed to counter a potential threat from Iran.
Putin suggested that Russia may respond to the threat by aiming its nuclear weapons at Europe.
"If a part of the strategic nuclear potential of the United States appears in Europe and, in the opinion of our military specialists, will threaten us, then we will have to take appropriate steps in response. What kind of steps? We will have to have new targets in Europe," Putin said, according to a transcript released by the Kremlin. These could be targeted with "ballistic or cruise missiles or maybe a completely new system" he said.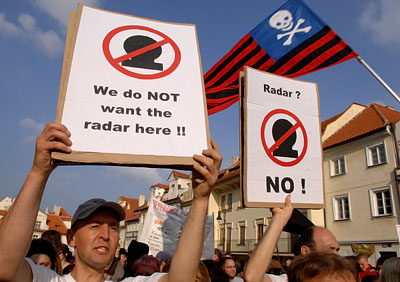 Protests in Prague (Czech Republic) against the planned US radar installations in the country. Majority of the population is against this proposal, which is being pushed through by the unpolular Czech government and the Bush administration.
Putin: 'The strategic balance in the world is being upset'
"The strategic balance in the world is being upset and in order to restore this balance without creating an anti-missile defense on our territory we will be creating a system of countering that anti-missile system, which is what we are doing now," Putin said.
Last week, Russia tested a new ballistic missile capable of carrying multiple nuclear warheads and a new cruise missile. While Western analysts said the system has probably been under development for several years, Putin has described the test as part of Moscow's response to the U.S. anti-missile plan.
Putin also suggested that in the absence of a real threat from Iranian and North Korean missiles, the U.S. plan could be an attempt to spoil Russia's relations with Europe.
Relations between Moscow and Washington have soured in the past year. The two former Cold War foes are at odds over Washington's missile plans, and over Russia's conflicts with Ukraine, Georgia and Estonia.
© PROMETHEUS 120/2007
PROMETHEUS, Internet Bulletin - News, Politics, Art and Science. Nr. 120, June 2007