Home | Alexander Order | Latest News
---
Swami Veda Bharati: Remembering the First Encounter
By Amy Gage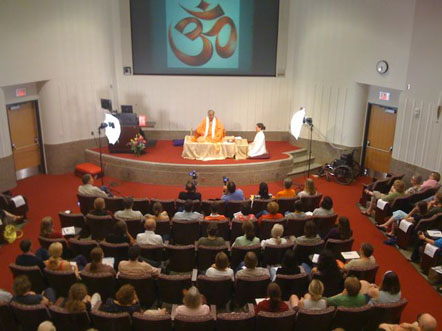 Swami Veda Bharati in 2009 at a lecture at the University of Minnesota, Minneapolis.
San Francisco/New York (mea) It was 1981, when the Alberta Yoga Association with the University of Alberta, Calgary, jointly sponsored and organized an International Yoga Conference. In an hour others would invade the auditorium for a keynote lecture, by a scholar called Dr. Usharbudh Arya, on "Meditation".
I felt compelled to get there early for this particular session. Judith Lasater would introduce a very interesting and important speaker who would explain and teach my favorite subject. A seat on the left side near the front looked like the perfect place to sit. I waited there quietly, using the meditation technique taught by my grandmother*, mother and aunt. In our family, meditation was the most important lesson anyone could learn--this speaker was going to teach that process the way Yogis experienced it. This is what had pulled me away from the spruce forest on the cliff of Neahkahnie Mountain, Oregon. I lived with my children in the house my dead husband, Fred Kline and I had built by hand, and where I discovered Yoga, thanks to my family. More than ten years I had been practicing Yoga alone: the ocean, trees, eagles who lived in our "neighborhood", books, art and family letters had been the only teachers I needed. As an Episcopalian, I wasn't looking for a "Teacher"; the resources available to me, and simplicity of our lives--we had lived in this rain forest for seven years without electricity--were more than adequate to help me follow this path, which I knew was the right one for me.
At first the auditorium was almost empty, but the oddest sound came from down front, over there where nothing seemed to be. It was an unidentifiable sound, but alluring, and caught my attention. It wasn't quite a whisper--it was very controlled and rhythmic, not words or utterances. Was it a new fangled air conditioner? Some idiosyncratic vacuum cleaner? Maybe a sleeping critter under the floor? It was a sound like nothing I'd ever heard; at the same time, it was a secure and easy sound. I sat there listening, feeling soothed and centered.
Folks began arriving for the lecture, scuffle and bustle all around, but that sound had my attention and I listened, preparing for the presentation. The room got warmer as the group settled. Judith took the stage and offered an introduction, which inspired all of us--brilliant comments, still fresh in my memory. She told us about the importance of "Tradition" and how mantras were sacred Sanskrit words carrying specific vibrations and providing the philosophical underpinnings of Yoga. She detailed the accomplishments of the speaker. Then, a tiny fellow stood up from down in front where he'd been sitting on the floor. He seemed to float to the stage--peaceful yet full of energy. He began chanting Sanskrit, the first time I heard it spoken, and I realized what the noise had been: Nadi Shodana, alternate nostril breathing, that's what it was. For years, I'd been practicing the technique from books, fumbling with my fingers in my nose, feeling its powerful effects, and always wondering at its peculiarity. That sound must have been this practice, and the result of that practice stood there on the stage, chanting, thanking his Teachers, drawing us all in and making the room full of shimmering light. Needless to say, he had my attention. This fellow who made that almost imperceptible sound, was the Teacher I wasn't looking for, but there he was: Dr. Usharbudh Arya with his elegant wife, Lalita.
During April 2005, my husband and fellow student John Gage, and I traveled with the now, Swami Veda Bharati, who had been invited to give a keynote address for a Chinese government co-sponsored conference held in Beijing. The conference organizers included the Honor Power Association who then invited Swami Veda and the rest of our small group, to visit ancient Buddhist sites around the country--including out to the Gobi Desert. We met museum directors, political dignitaries from provincial departments of religion, temple complex overseers, and monastics. Our small group included friends of Swami Veda from India, Singapore, Canada, and the U.S. What happened on this trip will remain a blessing to all of us: our Teacher was recognized! He explained to scholars and leaders, the esoteric meanings of treasured relics, translated ancient inscriptions in obscure languages which demonstrated the inextinguishable mysteries and meanings of deep spiritual truth. He was recognized as a Holy Man, someone whose life is dedicated to the shedding of Light and to the relieving of suffering. Everywhere we went, people wanted to learn meditation, and he taught them. Over and over again, in many different settings, Swami Veda was SEEN as a living Saint, carrier of Tradition, man of international peace and good will. We witnessed how strangers "recognized" him, related to his intelligence and creativity, and honored him. The eagerness of people to learn meditation from him, allowed us to become onlookers as the Chinese people we met, amplified the greatness of our Teacher.
For sixty years, Swami Veda has taught people to learn the sound of our own inner Silence in the Stillness he has helped us cultivate. All we have to do, is to sit and listen to that imperceptible sound, and remember.
*My grandmother, Amy Susannah Quinby Bryan, would hold me gently on her lap, wrap me up in her shawl, and tenderly sing to me to listen as though I were in a garden, alone, when the dew is still on the roses--she would emphasize the STILL part and we would pay attention for the voice falling on my ear. The Sun of God is close, she would tell me.
© PROMETHEUS 148/2009
PROMETHEUS, Internet Bulletin - News, Politics, Art and Science. Nr. 148, October 2009