Home | Alexander Order | Latest News
---
Owen Sound Art Banner Project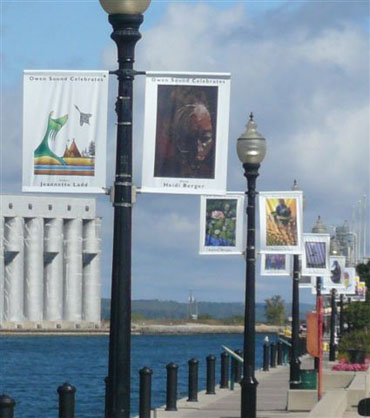 The harbour area of the Canadian town Owen Sound, Ontario. 40 banners are displayed here in the summer and fall 2009.
Owen Sound/Buffalo (mea) The town of Owen Sound in Ontario, Canada is a place of natural beauty as well as a cultural center. Many artists have made the town their home, and there are numerous cultural activities going on all year round.
In the summer of 2009, a number of artists took part in the 'Art Banner Project'. It was organized by the Owen Sound Art Banner Project Committee -- a group of local volunteers interested in building broad community support and participation in displaying the work of local artists in the form of street banners.
In addition to adding artistic value to the downtown streetscape, this project has great potential to increase tourist interest and civic pride in the downtown area.The images displayed on the banners were selected by a committee of local artists, and have been fully self-funded by art patrons, who will then receive the banners at the end of their public display period.
This process keeps interest high, and creates an annual stream of fresh images.
The City of Owen Sound, Ontario has approved this concept on a trial basis, with the initial launch which took place in the harbour front area in August, 2009. "Can you just visualize 40 banners along the waterfront all images from local artists? What a wonderful way to promote Owen Sound".
If successful, the goal is to extend this program to the downtown area in 2010.
There are now 40 banners, beautifully displayed on Owen Sound's Harbour. You can support this wonderful project … For only $100 you can sponsor one of the banners. This means it is yours to keep, after the public display period is over.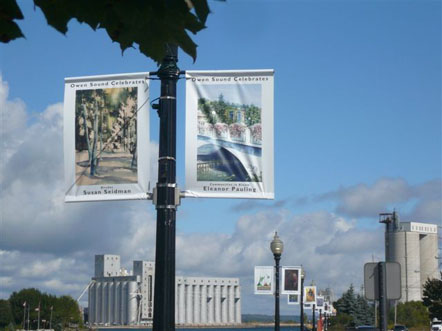 One of the banners was designed by the Canadian painter Eleanor Pauling from Owen Sound. She has exhibited her works in Canada and the United States at the Museum of European Art in Clarence, New York.
More information about her art can be found at:
www.bridgesartowensound.blogspot.com
Virtual Tour of Bridges Art Gallery
www.youtube.com/watch?v=kJGBzXkOqZ8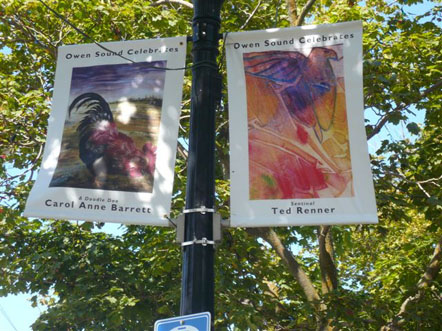 Caroll Anne Barrett is another well known painter from Owen Sound.
© PROMETHEUS 147/2009
PROMETHEUS, Internet Bulletin - News, Politics, Art and Science. Nr. 147, September 2009