Home | Alexander Order | Latest News
---
Salvador Dali Exhibition at Anderson Gallery
Includes a newly discovered collection of drawings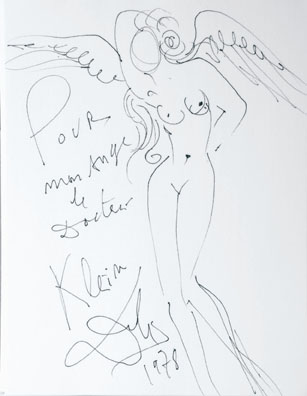 Original artworks by Salvador Dali from the collection of Edmund Klein will be on exhibition at the Anderson Gallery in Buffalo, New York.
BUFFALO, N.Y. "Salvador Dali," an exhibition of works by the Spanish surrealist that coincides with the 20th anniversary of his death, will be presented from June 27 to August 9, 2009 by the Anderson Gallery in Buffalo, New York.
It will feature 15 original drawings, two lithographs, a poster and a silver sculpture from the Edmund Klein Collection; two paintings from the University at Buffalo Collection, and a sculpture and several drypoint etchings from the collection of Niagara University's Castellani Art Museum.
The 15 sketches and the silver sculpture in the Klein Collection belong to the family of the late Edmund Klein, M.D., a world-renowned skin cancer researcher who was a research professor in UB's School of Medicine and Biomedical Sciences and who served as chief of dermatology at Roswell Park Cancer Institute.
For nearly a decade, beginning in 1972, the year he won the coveted Albert Lasker Award for Clinical Medical Research for his outstanding contributions to the treatment of skin cancer, Klein treated Dali for skin cancer in New York City, France and on Spain's Costa Brava.
Paul Chimera, a spokesperson for the Klein family and a Dali aficionado, says that over the years, the doctor and the artist became close friends and that Dali paid Klein unconventionally for his medical treatment by executing, personalizing and dedicating to Klein, the original drawings to be shown in this exhibit.
"The drawings were sequestered for more than 30 years in a bank vault in downtown Buffalo," says Chimera, resident of Amherst, "and have never before been exhibited."
According to Chimera, the drawings were executed on the frontispieces or other blank pages of certain Dali books, on sketchpads, a photography catalogue and the back of a technical paper written by Klein.
Another piece is included as well: a poster of a Dali watercolor featuring the U.S. Capitol building topped by the Winged Victory of Samothrace, dedicated to Klein from Mary Lasker.
A catalog of the Klein Collection will be available at the exhibition.
Gallery hours are Wednesday to Saturdays, 11 a.m. to 5 p.m., and Sundays, 1-5 p.m. Anderson Gallery, 1 Martha Jackson Place, Buffalo, New York. Further information can be obtained from the gallery at (716) 829-3754.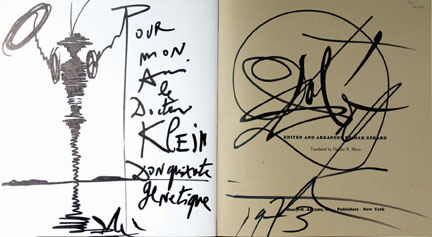 A typical artwork from the Klein Collection: Small drawings & big signatures by Dalí on the title page and the back page of one of many books published around the world about the famous Spanish surrealist painter and sculptor.
© PROMETHEUS 146/2009
PROMETHEUS, Internet Bulletin - News, Politics, Art and Science. Nr. 146, August 2009