Home | Alexander Order | Latest News
---
Noervenich Castle as Residence for the Alexander Order
Agreement for an Alexander Dinner in the year 2010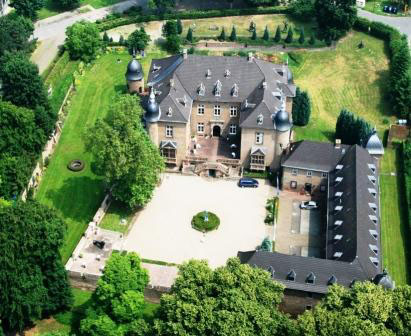 The Noervenich Castle near Cologne, Germany is the location of the Alexander Dinners 2010. The photo was taken in July, 2009. It shows the central building of the historical complex. The Hall of Knights is connected to it on the right.
Copyright Foto Marco, Ullmann
New York/Berlin (bpb) The international Alexader Order will hold its Alexander Dinner 2010 in Germany at the Noervenich Castle (near Cologne). The administration of the Noervenich Castle has already agreed on the proposed date. As the OAG Chancellor B. John Zavrel announced, in addition to the Knights of the Order also some guests will be invited who do not belong to the society. "This way we want to promote the open dialog between the members and those individuals who are interested in Alexander the Great."
At the event, a number of paintings will be exhibited from the series "Alexander's long journeys" by the painter Birgit Sewekow. To them belongs a triptych from the collection of the European Art Foundation. In addition, the oil painting "The Alexander Supper" of the French artist Pierre Peyrolle will be also shown. The Alexander Dinner will be accompanied by a special lecture on the theme "Alexander, His Times and Legacy". Interested persons can inquire about invitations for this event at marco-vg@gmx.de
© PROMETHEUS 146/2009
PROMETHEUS, Internet Bulletin - News, Politics, Art and Science. Nr. 146, August 2009