Home | Alexander Order | Latest News
---
A sculpture exhibition opens in Tehran
Visitors flock to see the mystic birds by Taha Behbahani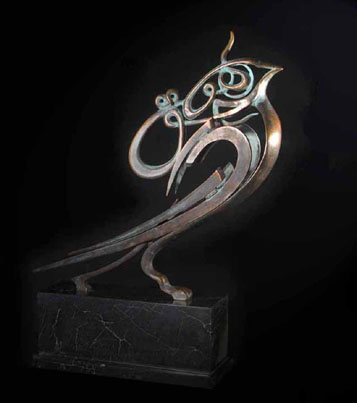 Tehran/New York (mea) A crowd of visitors flocked to the opening of a new sculpture exhibition in Tehra on Friday, May 7, 2010. Taha Behbahani's mystic birds drew hundreds of visitors to the exhibit "Taha, Lock, Bird, and Freedom" on its opening day at Tehran's Shirin Gallery.
The illustrator Nureddin Zarrinkelk regarded the sculptures a 'surprise', calling them different and unique. "One can see the trace of illustrations and paintings in Taha's sculptures, but what makes his work unique is his usage of calligraphy in them. The idea of letters turning into three dimensional objects has always excited me, and when I saw Behbahani creating a sculpture with the help of letters and calligraphy, I was absolutely astonished," he said at the opening reception.
Critic Seif considered his artwork a fresh hope for modern sculpture of Iran. "The statues act as a bridge connecting the worlds of miniature painting and Iranian mysticism. They both possess a modern nature, and also carry the mark of an oriental painter and sculptor," he remarked.
A selection of 30 birds is on display in the courtyard of the Shirin Gallery in Tehran. In the first hours of the exhibit, 21 sculptures were sold at a total price of nearly $100,000.
The most expensive sculpture "Tree of Lovers" sold for $20,000.
Taha Behbahani, painter, sculptor, set designer, television and theater director was born in 1948 in Tehran. He finished high school at Kamalolmolk Art School, and latermstudied at the Faculty of Dramatic Art at the University of Tehran, graduating in set design for theater, television and cinema. He has held a number of solo and joint exhibits in Iran and other countries.
The exhibition continues to May 19, 2010.
© PROMETHEUS 155/2010
PROMETHEUS, Internet Bulletin - News, Politics, Art and Science. Nr. 155, May 2010