Home | Alexander Order | Latest News
---
A new play by Vaclav Havel: 'Leaving'
Premier in Philadelphia, May 19 to June 20, 2010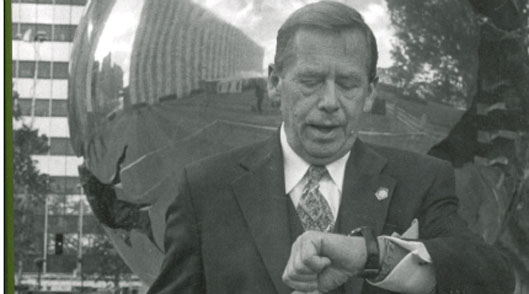 The former Czech President and playwright Vaclav Havel.
Václav Havel, renowned playwright and former President of the Czech Republic, returns to the theater with his first play in 20 years.
His new play 'Leaving' will receive its premier in the United States at The Wilma Theater in Philadelphia, May 19 to June 20, 2010. Directed by Jiri Zizka and starring Oscar nominee David Strathairn, LEAVING is an inventive story of a recently retired Chancellor who struggles over questions of truth and power along with his eccentric family and humorous bevy of functionaries.
The Sunday Times hailed it as, "Thrillingly funny...a hilarious send-up of politics and of theatre!"
For tickets and information, call (215) 546-7824 or visit www.wilmatheater.org
© PROMETHEUS 155/2010
PROMETHEUS, Internet Bulletin - News, Politics, Art and Science. Nr. 155, May 2010