Home | Alexander Order | Latest News
---
Sophia Loren: once a star, always a star
The Italian Hollywood star continues to fascinate
By Joe F. Bodenstein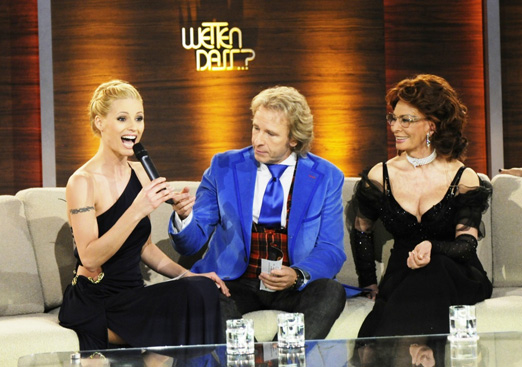 Sophia Loren (right) in March 2010 as 'grand dame' on the German TV talk show with the entertainer Thomas Gottschalk (center). Shown with them is the beautiful Michelle Hunziker. She is a TV moderator and a singer, who was married to the Italian singer Eros Ramazzotti till 2009.
Foto: ZDF/C. Sauerbrei
Mainz/Rom (bpb) The actress Sophia Loren has shown at a recent appearance on the German TV that even today, at the age of 74 years, she continues to remain a superstar. On the most popular TV entertainment show in Germany, its host Thomas Gottschalk has show n the audience that her mere presence is enough to enchant the viewers. Sophia Loren does not have to dance or sing, only to be Sophia Loren.
She has become a Hollywood star and one of the world-wide known acresses thanks to her achievements, perseverance and concentration on her goals. She was already 26 years old, when she started her career. She grew up in simple social circumstances in a small town near Naples. Her father did not marry her mother, but left the family instead. Sophia Loren received her artistic name from Carlo Ponti, who later became her husband. She finally married him, after overcoming many difficulties due to divorce laws in effect in Italy at the time. Two sons have come from this marriage.
It all began with a beauty contest
At a beauty contest for 'Miss Rome' in 1952, she placed second. At that event she met her future husband who was 22 years older than she, the Italian film producer Ponti. He recognized her artistic potential and supporter her career from the beginning. In 1957, at the initiative of Ponti, Sophia Loren came to Hollywood. There she appeared in front of the camera in 'Pride and Passion', her first US film. In the United States she appeared in movies with such stars as Anthony Quinn, Clark Gable, John Wayne, Richard Burton, Cary Grant, Frank Sinatra, Anthony Perkins, Charlton Heston, Paul Newman and Gregory Peck.
In Italiy, there was a rivalry between her and the beautiful Gina Lollobrigida, the other sex symbol at the time. With her film partner in many of her movies, Marcello Mastroianni, Sophia Loren and he were considered a 'dream couple'. She also often cooperated with the film director Vittorio De Sica.
More than 100 Films and numerous honors
Over the decades, she appeared in more than 100 movies. Sophia Loren was very popular especially in Germany. Her popularity there goes back to her early times, when she took part in the Berlin Film Festival as a young beauty and upcoming actress. At the time, she shocked the audience with a red wig.
Her contacts to the United States and especially to Hollywood continue to be close. In the past, she has received many honors and awards in the United States, and later in life she would come back to present awards to other artists. Whenever she appears at such events, the old glory of Hollywood becomes immediately visible again.
At award ceremonies in Los Angeles, she handed over in 1993 the Oscar to Federico Fellini for his life work, by the side of her film partners, Marcello Mastroianni. Also Robert Benigni received from her hand the Oscar for the best male performance in 1999, as well as the award for the best foreign film. In 2009, she presented the Oscar to Kate Winslet, and in 2010 she handed over the Golden Globe for the best foreign film to Michael Haneke.
Since January 2010, Sophia Loren has visited Germany several times. Besides the TV show on the ZDF channel, she took part at the 'christening' ceremony of a luxury liner in Hamburg.
© PROMETHEUS 154/2010
PROMETHEUS, Internet Bulletin - News, Politics, Art and Science. Nr. 154, April 2010