Home | Alexander Order | Latest News
---
The Third Reich: A sensational book about "Uniforms and Decorations …"
French publisher Ronald Hirlé releases "Uniformes et coiffes du Troisieme Reich".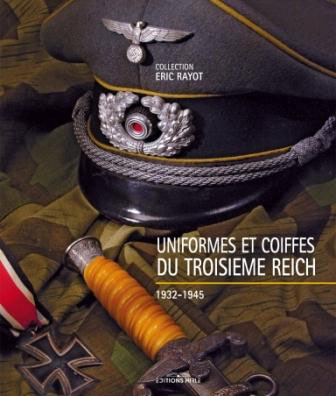 This is the title page of the sensational new publication. At the same time, it is a historical document for collectors and researchers of military history. In addition to excellent photos of the many-faceted original uniforms, the book also contains previously unpublished photo documents. To them belongs, among others, a rare photograph of the "Desert Fox", the Field Marshall Erwin Rommel (1891-1944) in Africa, showing him in his parade uniform, surrounded by his comrades at the front.
Foto: bpb-press, Marco-Bonn
Paris/Straßburg/Berlin (bpb) A publication, for which all those interested in history and world history have been waiting: The book "Uniforms and Decorations of the Third Reich" (Uniformes et Coiffes du Troisieme Reich." The French publisher Ronald Hirlé has just published the magnificent volume of photographs. This sensational publication is based on the collection of Eric Rayot, which has been inaccessible until now. It encompasses the years 1932-1945. The book is at the same time an example that shows how the former 'Reich capital' of Berlin combined the military and fashion.
With a scientific team, the Hirlé publishing house (www.editions-hirle.com) has created a historical document of first class, upon which future research work will be based. The book is remarkable for the many magnificent color photos of uniforms of the various armed services and youth organizations, including the HJ (Hitler-Youth).
No doubt: it is a valuable historical document, which can enchant the enthusiasts of weapons and uniforms in all the countries around the world. The historical researches have been done by the author, Sandrine Woelffel. She also led the editorial team, which prepared the easily understandable text of the publication.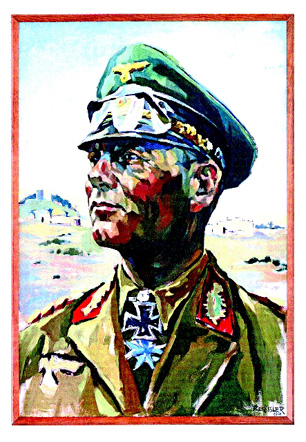 The Field Marshall Erwin Rommel, on a contemporary painting. He is the legendary fighter in Africa during World War II, above all against the British army. The Prime Minister Winston Churchill had named him the "Desert Fox". Over the period of several years, he was able to withstand the British General Bernard Montgomery, but finally was defeated due to the overwhelmingly larger numbers of the Allied enemies of Germany.
Foto History Archive
The book: Editions Hirlé: "Uniformes et Coiffes du Troisieme Reich", a volume of photographs in French, with several hundred unique color photographs. Size 28x23 cm, 208 pages, hard cover. The price is $ 55 plus shipping. Orders for shipments in USA and Canada can be placed with: West-ART, e-mail info@meaus.com
In Germany and Europe, the book can be ordered for Euro 35 plus shipping from Marco-Buchhandel, Händelstr.12, 53115 Bonn (Germany). E-Mail: Marco-VG@t-online.de
© PROMETHEUS 154/2010
PROMETHEUS, Internet Bulletin - News, Politics, Art and Science. Nr. 154, April 2010