Home | Alexander Order | Latest News
---
Ronald Reagan's 99th birthday anniversary
Alexander Order honors the late statesman with a proclamation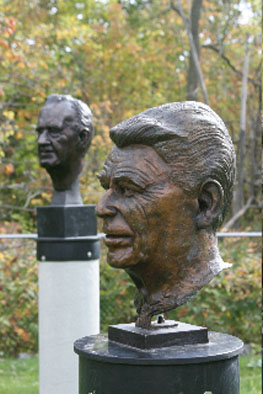 The portrait-bust of Ronald Reagan in the Alexander Garden in Clarence, New York. The bust was created by the sculptor Kurt Arentz, who was friends with the former US President. An exemplaire of the bust is also in the Ronald Reagan Presidential Collection.
Foto: OAG/meaus
Washington/Berlin (bpb) Ronald Reagan (1911-2004) would have celebrated on February 6, 2010 his 99th birthday. On this occasion, the Alexander Order Pour le Merite for Science and Art honored the late statesman and Knight of the Alexander Order with a proclamation. The document, "Ronald Reagan, the Eternal" was simultaneously published in New York and Berlin.
In the document, signed by the OAG Grandmaster Dr. Wilson Greatbatch and the Chancellor Consul John B. Zavrel , the many merits of Ronald Reagan for peace, freedom and democracy were remembered. Also highly valued was the political engagement of the President for the ending of the Cold War, the reduction of the East-West conflict and the unification of Germany.
Ronald Reagan and his wife Nancy Reagan have led their lives during his term of office according to religious and moral foundation of the Christian, Western culture, according to the proclamation. At the same time, Ronald Reagan has shown not only respect toward the culture of antiquity, but also toward all high cultures, which have contributed to progress of human society.
Letter to the First Lady Nancy Reagan
In a letter to the former First Lady Nancy Reagan in Washington, Consul Zavrel stressed that the Alexander Order will continue to honor the memory of the statesman. Visible signs are among others the installation of a bust of Ronald Reagan in the Alexander Garden of the Museum of European Art in Clarence, New York. The bronze portrait was created by the German sculptor Kurt Arentz, who was friends with the US President.
On the 99th birthday anniversary of Ronald Reagan, near the bust was raised the US flag. In Europe, at the seat of the Alexander Order at the Noervenich Castle near Cologne, the flags of Germany, European Union and USA were set at half-mast. At the traditional Alexander Dinners in 2010 in European and in the United States, the political achievements of Ronald Reagan will be remembered, as well as his special solidarity to the German people and the former German government of the Chancellor Helmut Kohl.
© PROMETHEUS 153/2010
PROMETHEUS, Internet Bulletin - News, Politics, Art and Science. Nr. 153, March 2010